A lower parts kit contains all of the small essential parts needed to complete a lower receiver. This includes everything from the trigger assembly and grip to the magazine release and gave plate. Many builders prefer to purchase a lower parts kit so that they can be sure they have all of the correct parts and won't have any issues with compatibility.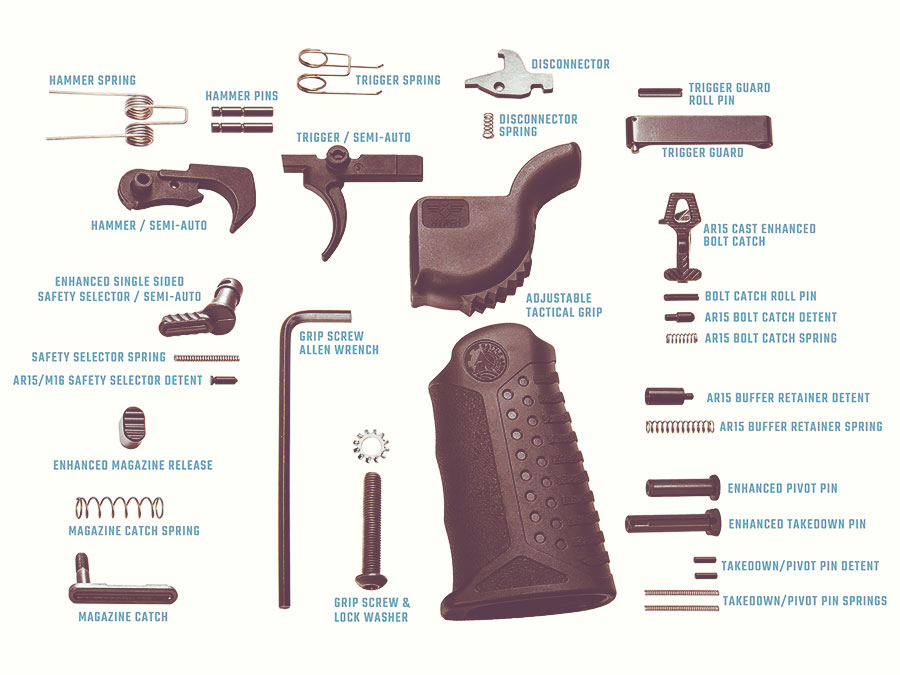 Lower parts kits usually include the following:
Trigger assembly
Grip
Magazine release
Bolt catch
Buffer tube assembly
Safety selector switch
These are just some of the most essential lower parts that are commonly included in kits, however, some manufacturers may include additional or different parts so it is always important to check before you buy.
When it comes to choosing a lower parts kit, there are two main factors that you need to consider – compatibility and quality. Compatibility is important because you need to make sure that all of the parts in the kit will work together with your upper receiver and other components. Quality is also important because you want to make sure that the parts are durable and well-made.
There are a few different ways to find a compatible lower parts kit. The first is to check the manufacturer's website or product listing for compatibility information. The second is to consult with an expert or somebody who has experience with building AR-15s.
As for finding a quality lower parts kit, the best way to do this is to read reviews from other builders or shooters. You can also look for kits that are made by reputable brands or manufacturers.
You are viewing 1 out of 3 answers, click here to view all answers.